Sophie Kenny '19, '20G, '22G
Diving into Diet and Mental Health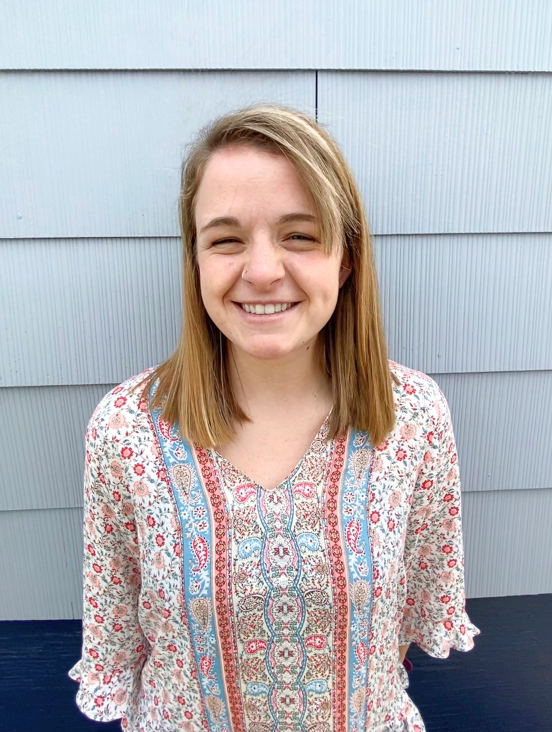 Sophie Kenny '19, '20G, '22G earned her bachelor's degree in nutrition: nutrition and wellness and a graduate certificate in the didactic program in dietetics from UNH and is now a master's student in nutritional sciences at the university. But Sophie's interest in healthy eating did not begin in college — when the Stratham, New Hampshire native was on the swim team in high school, swimmers in the lane behind her could identify her by the bottoms of her feet because they were always orange from eating lots of carrots.
COLSA: How would you explain your discipline and/or research to a non-scientist?
Sophie Kenny: My research is examining how specific types of dietary saturated fats that are found in dairy foods impacts cognitive function in older Puerto Ricans living in the Greater Boston Area.
COLSA: What do you wish your colleagues/friends/family knew about your work?
Sophie: The importance of our dietary intake in regard to physical and mental health. Our food choices not only can decrease the risk of heart disease and type 2 diabetes but also can improve our mood and overall cognitive functioning skills. Many mental health disorders are becoming more and more prevalent, and it is so important to feed our digestive system but also our brain with the nutrients it needs to be happy and functioning as best as possible.
COLSA: Why is your research important?
Sophie: This research is important for many reasons. Roughly one in nine people suffer from dementia in the U.S. This is not including others who are impacted by this disease such as family members, caretakers and medical professionals. From personal experiences, it's really hard to see a loved one begin to lose cognitive functioning.
Hispanic/Latinos have a greater prevalence of cognitive impairment, as compared to Non-Hispanic whites. This may be related to the high prevalence of cardiometabolic risk factors, such as type 2 diabetes and hypertension, which have been associated with cognitive decline. Specifically, Puerto Ricans experience a greater burden of these risk factors as compared to their Hispanic/Latino counterparts.
Current dietary recommendations are to moderate saturated fat consumption, but previous research conducted in Sherman Bigornia's lab found beneficial associations between certain saturated fatty acids found in dairy products and cognitive function among Hispanic/Latino adults residing in the U.S. It is also recommended to consume low-fat dairy as part of a healthy diet, but this research suggests that full-fat dairy may have some cognitive benefits.
However, these findings are limited because they are cross-sectional in nature. My project will investigate these associations using a stronger prospective study design.
COLSA: What do you consider your biggest challenge?
Sophie: In my first semester, I struggled with project management. I often find that I have five things to do at any given time, and it was difficult to just tell my brain to think about one at a time. After a semester of trying to figure out how to best combat this, I found a few strategies. The first was to create a time-bound to-do list first thing each morning. The second was to include some type of physical activity daily because I have found this significantly improves my ability to focus on the tasks I set for the day.
Sophie: I am surrounded by professors and peers who all are passionate about helping others through the food we eat. It inspires me to continue to learn and contribute to research and bring my knowledge and skills wherever I go next.
COLSA: What are you most proud of?
Sophie: Running a marathon through Durham during the pandemic!
COLSA: Why did you choose UNH?
Sophie: I first chose UNH because of the proximity to my family. I consider myself extremely lucky to be so close with my parents and my three older brothers. This still holds true, but there are so many other reasons why I love being a student at UNH. There is so much good food and coffee, places to run and bike, as well as the amazing environment in the classroom. The nutrition department is so exciting with all the learning opportunities that we have available to us, including such incredible professors, the ability to be a part of research projects during undergraduate and graduate programs, and the unique tools such as the BOD POD, the MedGem and the Veggie Meter.
COLSA: What do you plan to do with your degree?
Sophie: I plan to complete a dietetic internship and become a registered dietitian. I have a wide variety of interests in the nutrition field, but I hope to use the skills I have been learning this year in my classes, working as a teaching assistant, and working in Dr. Bigornia's lab to continue to work in academia.
Learn More