Kimberly Lavoie '17
A full resume and resilience has made this grad ready for anything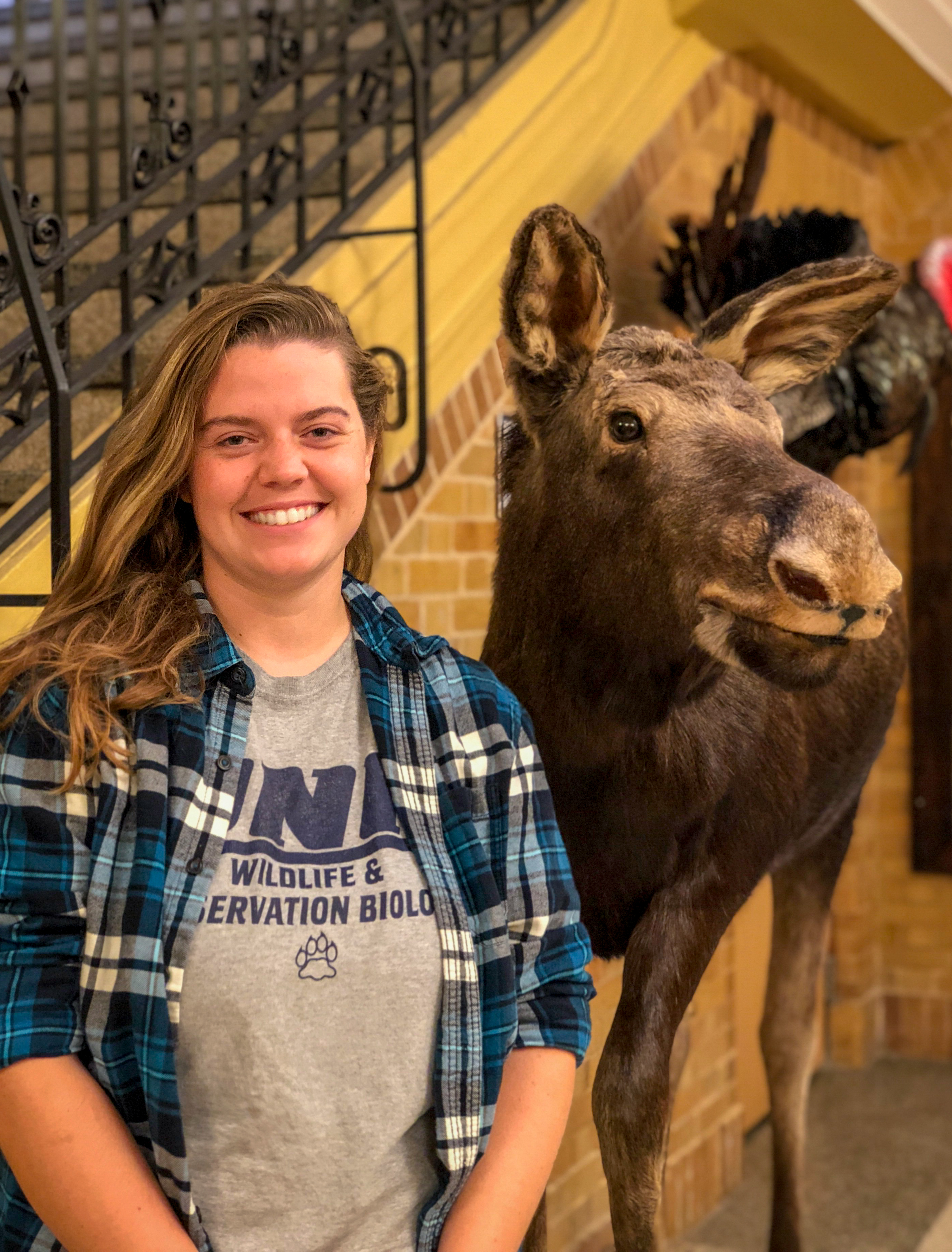 We caught up with Kimmie Lavoie '17, a wildlife and conservation biology major who recently completed work for the U.S. Fish and Wildlife Service.  
College of life sciences and agriculture: What are you currently doing?
Kimberly Lavoie: After completing a seasonal position with the USFWS monitoring piping plover, I'm spending time with my family before striking out again to broaden my fieldwork experience. I'm in the midst of apply for jobs out in Ohio, California, and Illinois! I've been considering grad school, but with my current budget, paying for GRE's seems like a waste until I find out what I really want to do long term, and what kind of degree/experience I need to get me there.
COLSA: How did your time at UNH prepare you for life after college?
Lavoie: My UNH days were busy with volunteer work and leadership opportunities that I really gave me a leg up when it came to applying for jobs. My resume was full, and I'm lucky in that regard. But every day is new, and you'll never know where you're going to end up; I think college prepared me for that most of all. Being adaptable and able to connect with all types of people can help make the rockiness of post-college life bearable.
COLSA: What person or course most influenced you while at UNH? How?
Lavoie: Dr. Rowe, who taught my mammalogy course, was most influential on my UNH experience. I was a sophomore in a senior/grad student level course only offered every other year. I needed a vertebrate biology course, and while ornithology would have been more flexible, I knew without a doubt that mammalogy was what I wanted out of the requirement. I've been fascinated with mammals and will openly admit my favoritism compared to other organisms. So with a little bit of pursuing, I was able to slip into an already-full class roster, two grades lower than the average.
I was warned that the course would be difficult but fair. But the material came naturally, and with the help of my ever-patient classmate-turned-friend, Kat Wadiak, I did as well. Enraptured in the material and lab section of the course, I began volunteering in Dr. Rowe's laboratory, which eventually led to a paid position working with one of her doctoral students, Brooks Kohli. That opportunity to travel to Nevada was my first experience doing field work. Coupled with a party of delightfully fun and intelligent coworkers, it was the shortest yet most enjoyable job I've had to date. The class, Dr. Rowe, and my position as her field technician taught me the importance of not only working with animals you admire, but people as well!
COLSA: What course was the most difficult for you and why?
Lavoie: It's a toss-up between my Introduction to Drawing course or any of the chemistry classes I was required to take. I've never been good at chemistry; in high school and college, I've taken three chemistry courses, but the material is just difficult. My art course, on the other hand... I'm an avid sketcher and drawer, so I assumed the gen ed art class would be a walk in the park. But it turns out, having 'requirements' on drawings takes the joy out of art and made me obstinate. I got a B+, but I'm still convinced I should have had an A.
COLSA: What advice do you have for students interested in your field?
Lavoie: Everyone has their own reasons for getting into Wildlife and Conservation Biology. Maybe you like camping, maybe you like research, or maybe you want to start an environmentally sustainable commune someday. I've heard them all.  I, personally, chose my major because I'm a total dork for vertebrate animals. I stumble upon a wild animal, and I freeze no matter if it's a chipmunk or a bear; I get a shock of excitement getting to see them and interact with them up close.
My advice is to find the aspect of your major that does that for you, and make that the focus of your studies and your professional experience at college. Reach out to the people your professors introduce you to, and try everything to find what you want to pursue. Knowing what you don't like is just as important as knowing what you do like.
COLSA: What do you know now that you wish you'd known while an undergrad?
Lavoie: I wish I had known how fast it was going to fly by!
COLSA: What do you miss most about UNH?
Lavoie: The people. The university draws in people with wide ranges of experiences. If I ever had any questions or wanted to know more, there was a wealth of knowledge to be gathered from professors, staff, and even fellow students. I always felt like I had support when I needed it. I could find help with intricacies of running student orgs, succeeding in classes, and finding professional connections—all inside the mile radius of UNH.
And of course, my old roommates!
Learn more: