Easton White
From First-Gen College Student to Accomplished Scientist and Professor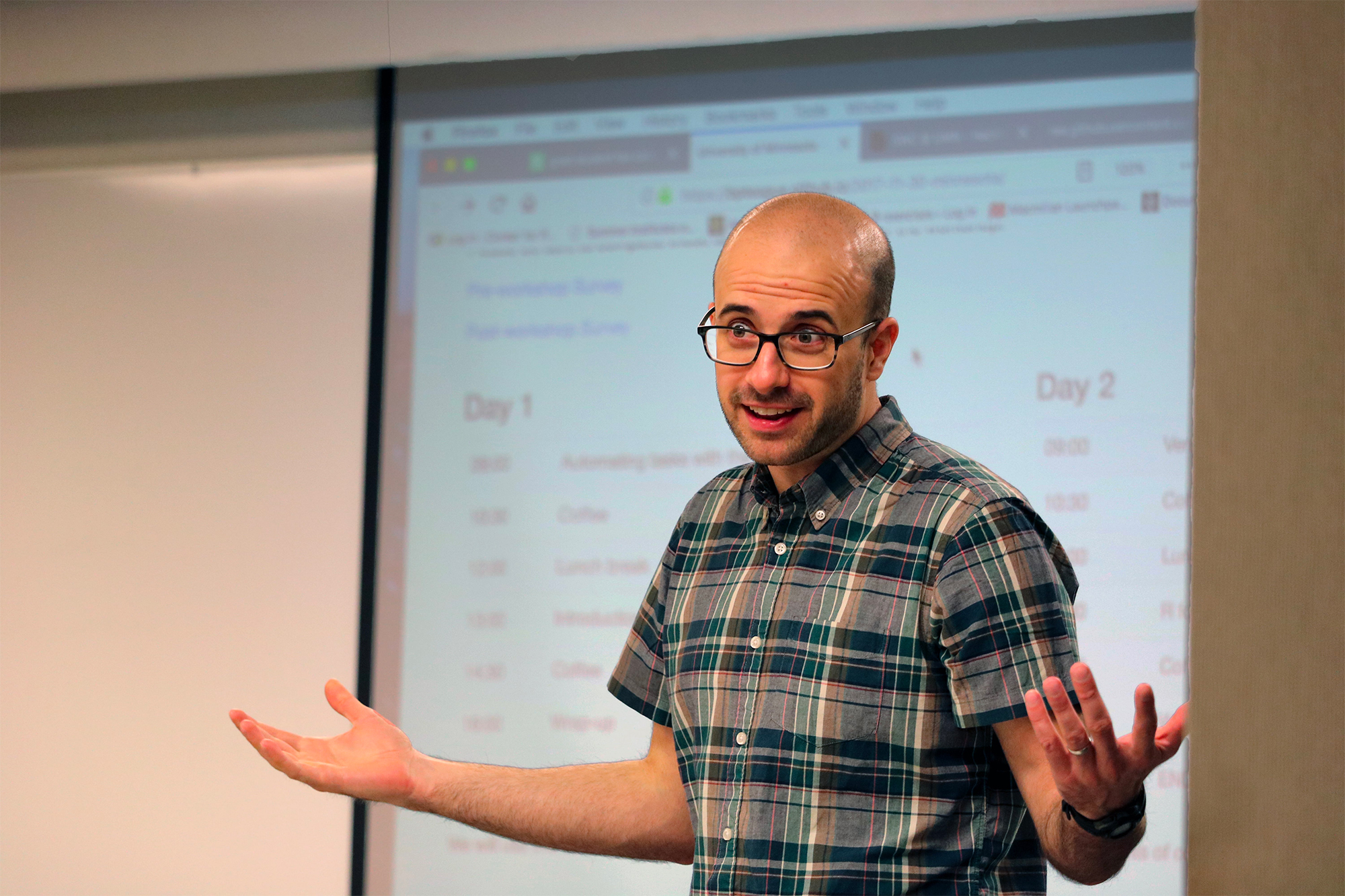 Easton White is an assistant professor in COLSA's department of biological sciences, and he runs the Quantitative Marine Ecology Lab.  White chose to come to UNH because of the university's land-grant mission, expertise in the marine sciences and sustainability, and the proximity to incredible ecosystems like the Great Bay Estuary. Previously, he was a research associate at the University of Vermont with the QuEST program, an NSF-funded research traineeship focused on quantitative skills, interdisciplinary work, and diversity and inclusion.
If you're a graduate student or postdoctoral fellow who is interested in working in White's lab, please visit the lab's website (https://quantmarineecolab.github.io/join/) for information on openings and on how to apply.
COLSA: Please describe your area of expertise in nontechnical language.
Easton White: I am a quantitative ecologist which means I use a variety of statistical and mathematical tools to understand the natural world. I use these tools, combined with field observations and experiments, to better understand and manage ecosystems. The real challenge of my work is to look at a natural system and be able break it down conceptually into core components that can be described with mathematics. Using these mathematical tools, I can then gain a better understanding of the natural system.
My particular expertise is working on marine systems with a focus on fish, fisheries, and seafood. The biggest questions I am dealing with at the moment relate to spatial ecology, socio-ecological systems and extreme events. I have wide interests with other work on infectious disease modeling, terrestrial mammal ecology and science education research.
COLSA: How would you explain what you do to someone unfamiliar with your work and field?
Professor White: As a professor, my job is to teach classes, mentor students, conduct research and serve the broader community. My goal is to conduct cutting-edge and important research that I can then bring into the classroom and to the general public. I believe it is important for me to bring the latest science to these groups.
COLSA: What draws you to your work?
Professor White: I am particularly drawn to my work because I get to solve puzzles in exploring some of the biggest mysteries in biology. Through teaching and outreach, I can share these new discoveries.
COLSA: What do you love most about teaching?
Professor White: Teaching is one of the most important and rewarding parts of my job. I really enjoy teaching as it is a time where I can educate the next generation of thinkers and problem solvers. It is an amazing feeling to see a light-bulb moment in a student when they finally understand a difficult concept. There is nothing more rewarding to me than seeing my students go on to achieve amazing things in their career or in their personal life.
COLSA: Please describe your teaching style and what students who take your courses can expect.
Professor White: In each of my classes, I use innovative teaching practices based on pedagogical best practices. Research has shown that students are motivated to learn only when students value the material, believe they can succeed and are in a supportive environment. Thus, my teaching philosophy focuses on three key principles: 1) active learning engages students, 2) meaningful projects should guide learning, 3) courses should be taught with an interdisciplinary mindset.
COLSA: What do you wish others (colleagues, students) knew about what you do?
Professor White: I am a first-generation college student. I started at a small community college in Arizona which set me on my path today. This has informed a lot of my views around the importance of diversity, inclusion and equity in science and academia.
COLSA: If you could share one piece of advice with students, what would it be?
Professor White: Grittiness and the ability to ask good questions are far more important than GPA or test scores.
COLSA: So far in your career, what do you consider to be your greatest achievement?
Professor White: In late 2020, I led an international team of scientists to better understand the emerging effects of the COVID-19 pandemic on seafood and fisheries.
The seafood sector was hit hard by COVID-19 because of restaurant closures and several outbreaks in seafood processing facilities. We published our findings in a major scientific journal. However, much more importantly, our work had a large reach in terms of public outreach. Our work was published in over 300 news outlets, including PBS, NPR, The Associated Press, and The Counter. The work was even cited in a U.S. Congressional Research Report about COVID-19 and seafood.
COLSA: Finally, if you weren't doing this, what would you be doing?
Professor White: It's a good question. I would probably be working in education to some extent. I love learning new things and teaching others. This could be at the K-12 level or focused on education for the general public.
Learn More